Bakery Story™
1.6.0.3g
Bakery Simulator – Build the Bakery of Your Dreams
If you like serving customers and have aspirations of running a bakery in the future then this bakery simulator can prove to be a good learning exercise. Bakery Story is a cool game that lets you design and run a successful bakery by serving a variety of baked goodies to the customers. It puts you in charge of a bakery that is in its infancy. Your job is to take it forward and expand it as much as you can. The customers would be coming in from the start so you need to start baking immediately. If the customers get turned away without being fed, they won't be happy and your bakery's rating will plummet. So, keeping customers happy is your first priority.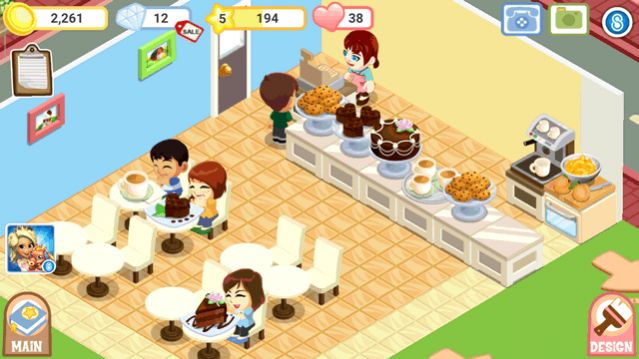 Bakery Story has slick gameplay that is complemented beautifully by its nice graphics. The controls of this bakery simulator are easy to understand as well. You just have to click at the ovens and the drink machines to prepare the orders for the customers and place them on the serving counters. The customers will get their orders themselves and upon their departure pay for their meal. You won't have to do anything. Your job is to just keep on preparing the baked items that the customers like. Also, you need to continue evolving the design of the bakery too. You can do this by adding new furniture or decorations items. Moreover, you can also give your bakery a new look by changing the wallpaper.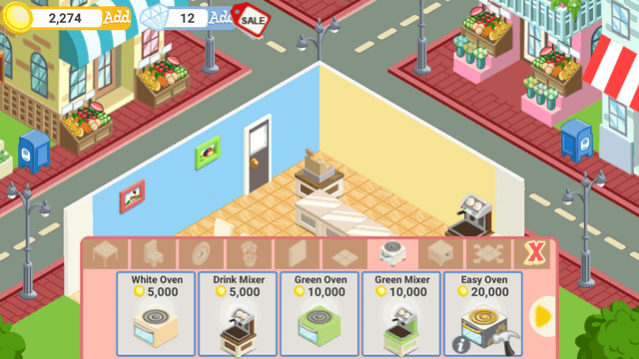 In this bakery simulator, you will get to try a variety of amazing recipes. From simple cookies and brownies to peach cobbler pies and chocolate cakes, you will have to make various baked goodies to keep the customers happy. To create a recipe, you will need to select it from the menu provided with each kitchen appliance. You will have to do some prep work before creating each item. Each recipe takes its own time to make and has a specific amount of servings it can offer. Some recipes are easy to make and can be prepared within minutes while others take several hours. You need to find a balance between the simple and the complex recipes to ensure that you always have something to serve to the customers.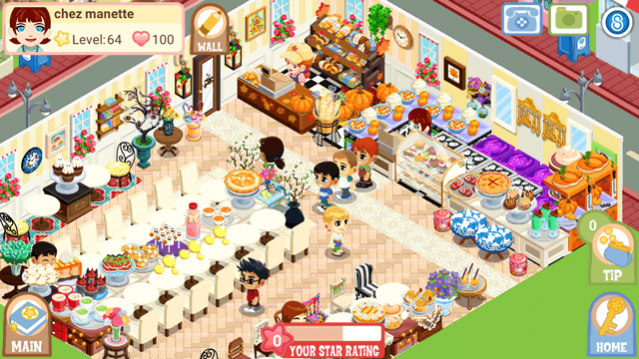 Bakery Story lets you make use of your creativity to change the look and appearance of the bakery. There are various decorations and furniture items provided to you that can help you in giving your bakery the ideal look. If you need some inspiration then you can visit the bakeries of your neighbors. See how they have designed their bakery's layout and where the seating arrangements have been made. While you are visiting the bakeries of your neighbors you can also leave tips behind. This will help you in increasing your star rating. Also, there are various quests that you can complete to earn amazing rewards.
Features:
Create a large variety of baked goods
Lots of amazing recipes available
Bake cakes, pies, pizzas, and more in the oven
Brew various types of coffees and teas
Serve your customers and earn money
Complete a variety of quests to earn rewards
Various appliances available for purchase
Lots of furniture items to choose from
Decorate your bakery with decorations items
Expand your bakery to serve more customers
Visit bakeries of your neighbors and leave tips
Conclusion:
Bakery Story is a gaming app that is designed for people who have an interest in running a business and love baking cakes and pies. It offers them the chance to step into the shoes of a baker and create all sorts of bakery items and dishes for the troves of customers flocking to the bakery. It is a great bakery simulator to have on your phone.
---
Add a review
Tell us your experience with
Bakery Story™
1.6.0.3g
RELATED PROGRAMS
Our Recommendations
---
---
---
---